Hi guys!
I came on to write this blog because I ABSOLUTELY had to tell you about this hilarious thing that happened to me today!
So, I'm walking home from school with Holly, and there was this super cute dog that was bounding toward us. I was so excited because I love dogs so much! Except he bounded straight past us and around the corner. I wanted to follow him, but Holly said we couldn't because Mum always says we have to walk the exact school path home and not go off anywhere otherwise she won't know where we are. But Holly said we could check just around the corner, like just look - and he was there!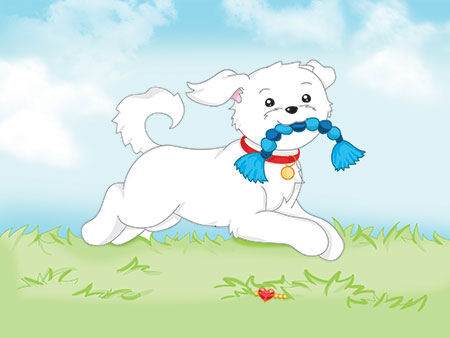 His head was shoved into this bush, and I thought he might be stuck, so I went over to try and pull him out. But I tried and he wouldn't budge! I got a bit worried, and Holly had a turn too and couldn't move him. We were just about to call Mum to see if she knew who we should speak to to come rescue him, when he just popped out on his own and started running little circles around our legs.
I had a look in the bush, and there was plenty of open space - and like, 40 tennis balls! Turns out he was hoarding the tennis balls, and when I went to try and "help" him out of the bushes, he was just digging his paws in coz he thought we were trying to steal all his toys!
OMG, me and Holly laughed for so long I had to sit down on the pavement for a bit. It was so funny!
Have you ever had a funny story like that happen to you?
Love Jessie