This week, TGHQ got two special visitors – TG readers Jordyn (who's 12 years old) and Lara (who's 10)! They got to check out what happens behind the scenes at the TG offices and what fun things we get up to! Find out more about TG and the girls…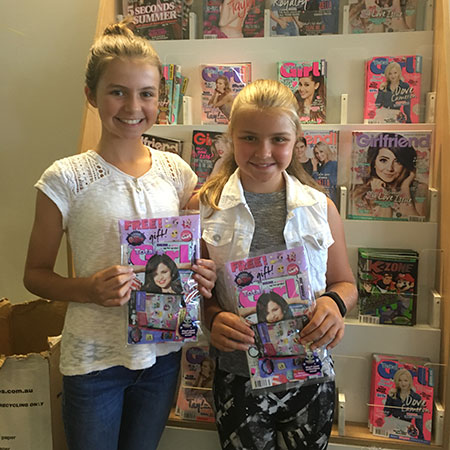 TG: Hey girls! What was your fave part of visiting the office today?
J: My favourite part was meeting everyone who helps put together Total Girl – it was amazing.
L: Same!

TG: Was there anything that surprised you about TGHQ?
J: It's so decorative!
L: I didn't know that the Total Girl and K-Zone magazine offices are together – it's so cool!

TG: If you worked at Total Girl, what job would you want to do?
J: I would want to be the designer, decorating the pages and all that stuff!
L: I would want to be the person who goes and interviews all the celebrities!

TG: Who is your fave celebrity that you would want to put on the cover?
J: One Direction!
L: Ariana Grande!
TG: What's the best thing about your sister?
J: Lara's a very good dancer (she does jazz, ballet, contemporary), and if I do something bad she doesn't tell on me!
L: Jordyn always gets into musicals, which means I get to go see musicals!

TG: If you could use one word to describe each other, what would it be?
J: Caring.
L: Oh – that makes my word look worse! I was going to say crazy. But a good kind of crazy!

What do you want to be when you grow up?
L: A celebrity!
J: I was thinking of becoming a professional actor, but if that doesn't work out – working at Total Girl!

Anything you want to say to TG readers or any shoutouts?
J: To all the TG readers, remember that anything you want to do can happen to you.
L: Love Ariana Grande! Also, "See Annika, I AM here!"