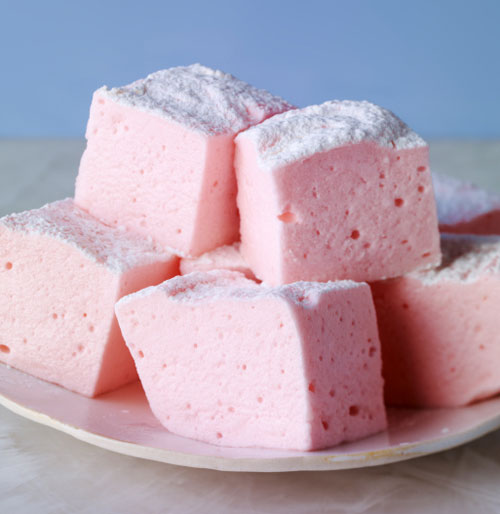 *Eat on Special Occasions
Makes 30
What you need:
For the dusting sugar:
3 tbsps CSR Pure Icing Sugar

3 tsps cornflour
For the marshmallows:
180ml passionfruit juice with the seeds strained out (about 20 passionfruits)

5 tsps powdered gelatin

2 1/3 cups CSR Caster Sugar

1 cup water

2 egg whites
What to do:

Lightly grease and line with baking paper a 28cm x 18cm rectangular pan.

Mix together icing sugar and cornflour to make dusting sugar. Use a small amount to dust over rectangular pan.

Mix together passionfruit juice and gelatine in a bowl and set aside.

Put caster sugar and water in a large saucepan and cook over low heat, stirring until sugar has dissolved.

Turn up the heat to medium and cook for another 5–10 mins or until syrup thickens.

Drop a tiny amount of syrup into a saucer of water. If it goes hard right away , it's ready.

Remove from heat, add passionfruit mixture and stir to dissolve gelatine.

Use an electric mixer to beat together egg whites and a pinch of salt until soft peaks form.

Slowly add hot passionfruit mixture, beating continuously on a medium speed. Mixture will double in size.

Pour into prepared pan and stand at room temperature for 4 hrs or until firm.

Get your mum or dad to help you use a sharp knife to cut the marshmallow into cubes.

Roll them in icing sugar and serve!
Thinking Pink? For raspberry marshmallows, swap the passionfruit juice for a 300g packet of defrosted, strained frozen raspberries.
Tip: Your marshmallows can be stored in airtight container for up to 2 weeks.

* Recipe courtesy of CSR Bake A Difference