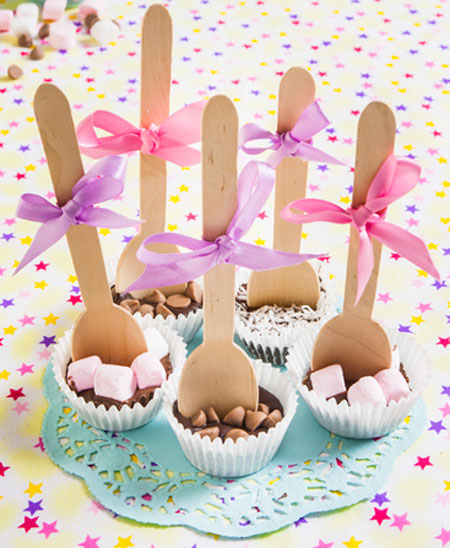 Makes 12

What you need
1 1/4 cups dark chocolate baking melts

1 1/4 cups milk chocolate baking melts

Mini marshmallows, chocolate chips and shredded coconut, to decorate

12 disposable wooden spoons
What to do
Line a 12-hole mini muffin pan with mini paper cases. Place dark melts in a medium heatproof bowl. Microwave on high for about two minutes, stirring every 30 seconds, or until melted. Pour evenly into half of the mini paper cases.

Repeat these steps with the milk melts and pour evenly into the remaining paper cases.

Decorate the tops with mini marshmallows, chocolate chips and shredded coconut, as desired.

Insert spoons into each paper case to stand upright. Refrigerate for 30 minutes, or until set.

Remove chocolates from pan. Peel off paper cases.
To serve:
Place 200ml milk in a heatproof jug. Microwave on high for about 2-3 minutes, or until hot. Stir in one hot chocolate spoon until smooth. Serve with extra marshmallows.