Hi Total Girls!

Exploring new parts of the world is my absolute favourite thing to do. It can be anything from discovering a new beach near my house to visiting a new city. So when I found out I would be filming in Singapore for Saturday Disney, I was over the moon! I'd only ever been to the airport in Singapore, so to spend a whole week there was incredible. I loved Teigan's blog below so much that I thought I would share my highlights as well!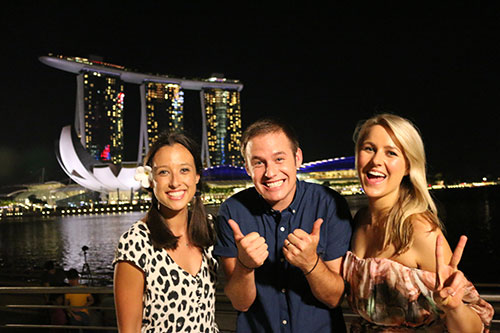 I took so many photos on this trip that I could fill a whole hard drive! Most of the photos showcase the Singapore skyline at night (apart from my selfies haha). The lights sparkled over the harbour and for some reason it reminded me of Christmas! Straight after this photo was taken, I had the most delicious coconut ice cream. I really need to try and recreate the dessert at home!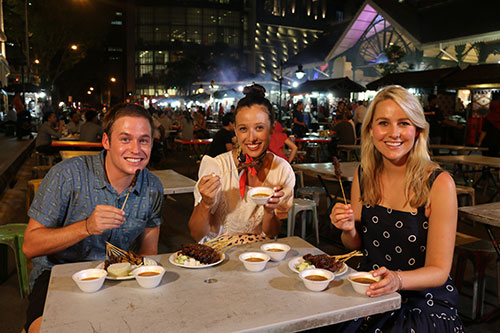 That brings me to my next point…FOOD!! Singapore has so many delicious cuisines on offer. Some of my favourite food on the trip included Indian curries, coconut water straight from the coconut and satay sticks! This picture was taken on the famous Satay Street where we tried everything! The peanut sauce was delicious. It was the first time there was silence on the trip - we had to fully embrace the taste!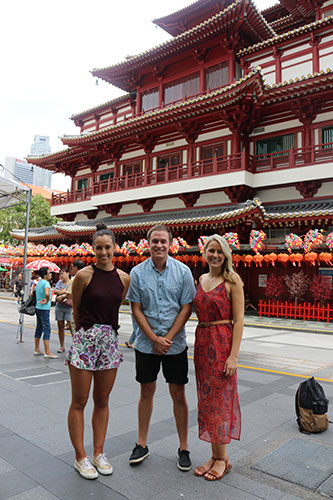 Chinatown also had the most interesting food on offer. I tried all of the treats at the market stalls and then Teigan gave me durian fruit to eat! I ate so much all at once but then the flavour set in and to be honest I felt a little unwell! I think I'll just stick to durian ice cream next time, it's a little easier to handle (with less smell!). I'll always remember the energy and excitement of Chinatown, we were there during Chinese New Year so the streets were filled with lights and lanterns.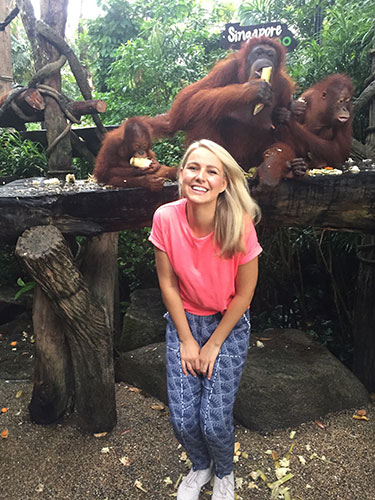 One of my other highlights was our visit to Singapore Zoo. We had breakfast and took selfies with the orangutans! There was even a baby orangutan who was so cheeky! I saw him getting a lift from one of the adult orangutans. Can you see my little friend in the picture? I think he's very satisfied with his breakfast!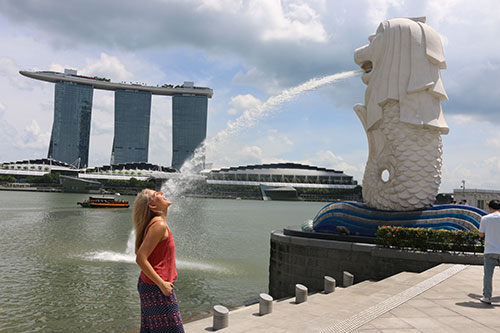 I feel so lucky to be able to travel with Saturday Disney and I feel like we get to take our viewers and loyal TG readers along for the adventure too!
What are some of the adventures you have coming up?
Keep Smiling. Love Candice xx
PS:
Saturday Disney is now on Channel 7 from 6am-7am and then we switch over to 7Flix from 7am-9am.