Hey TGs!
Guess what one of my favourite things to do is?
Did you guess 'play with puppies'? YOU ARE CORRECT. I would put the puppy face emoji in here if I could.
But, also! One of my fave things to do is read. It always has been. I'm sure heaps of you feel exactly the same way. Sometimes TGs write in to say they really want to work at TGHQ one day and if this sounds like you, my best advice is to read. And read. Also read. Then read some more. Read every day. On sunny days. And cloudy days. Read on days that end with 'y'.
Guess what else? The Australian Reading Hour is coming. It's on Thursday, 14 September. The idea is on this day, you get to stop what you're doing, pick up a book and read for an hour. Cool, hey?! I mean, I'm so on board with this. You should see my piles of books I have that I want to read and I haven't yet read. With a whole hour set aside, I'm going to bliss out and escape into a cool, fictional world. I love doing this. Here I am with a heap of cool books at TGHQ.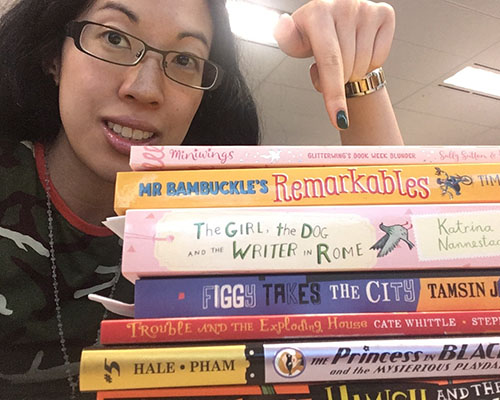 If you want to take part in The Australia Reading Hour, ask Mum, Dad or your teachers if you can check out details on readinghour.org.au. What are you going to read? Dork Diaries? Diary of a Wimpy Kid? Gangsta Granny? You can choose!
Here are my fave ways to find out what I might want to read next:
Ask my besties what they read and enjoyed.
Read reviews of cool new books, like in the reviews section Aaron writes for TG.
Browse at my fave book stores or libraries.
What are you reading right now? If you have a book recommendation for other TGs, tell us in the comments!
Have a fun weekend!
Claire xo