Have you heard of the Matildas? They're the Aussie women's soccer team and last year they were ranked 10th in the world! This year they're back and ready for action at the Women's Soccer World Cup!
The whole comp gets underway in Canada on Sunday June 7 (7:30am AEST), but the Matildas' first kick off is against the USA on Tuesday June 9 (9:30am), so get set to practice your "Aussie, Aussie, Aussie" chants TGs!

The Matildas girls have trained about fifteen hours a week to get ready to play the best of the best at the World Cup, but besides being sports superstars, they're just like you!

We chatted to Steph, Katrina and Kyah from the team and they told us they love Taylor Swift and Katy Perry, but most of all they all love dogs!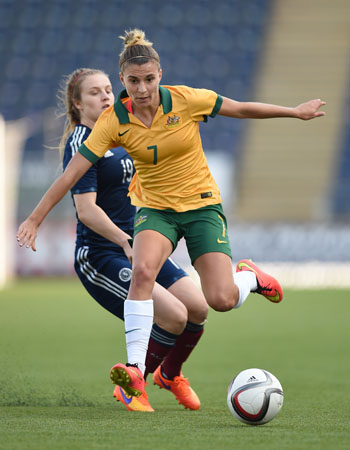 This team's on the rise, and we love them because they're breaking all kinds of conventions. This year one of the Matildas is totes going to appear on the cover of FIFA 16. Yep, that's right! When the latest release from the super cool soccer video game hits the shelves later this year, there will be a female player on the cover for. The. First. Time. In. History!
So if you love gaming. And FIFA. And soccer, check out the comp and vote for the Matilda player you want to see on the cover of the game! For more details and how to vote, keep checking back here and we'll post the updates!

Do you play or watch soccer TGs? Tell us what your fave thing about soccer is in the comments below!