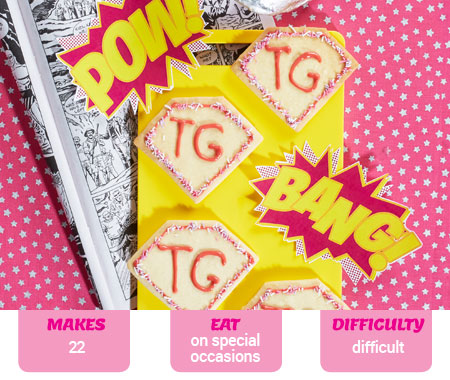 What you need:
200g unsalted butter, at room temperature, chopped
½ cup icing sugar mixture
1 teaspoon vanilla extract
1 egg
2 ½ cups plain flour
Pink writing icing pen and pink sprinkles, to decorate

What to do:
Preheat oven to 160C, fan forced. Grease and line three large oven trays with baking paper.
Beat butter, sugar and vanilla in a small bowl of an electric mixer until light and fluffy. Add egg. Beat until combined. Transfer to a large bowl.
Add sifted flour. Stir until mixture comes together. Turn out onto a clean bench.
Divide into two equal portions. Shape each portion into a round. Wrap in plastic wrap. Refrigerate for 30 minutes, or until firm enough to roll out.
One at a time, roll out each portion of dough between two sheets of baking paper until ½cm thick. Using a 7cm square cutter, cut out 22 shapes, pressing un-used dough together and re-rolling as necessary.
Using a small knife, cut one corner from each square to make a shield shape. Place on prepared trays, 3cm apart.
Ask an adult to help you put trays in oven. Cook for about 15 to 18 minutes, or until lightly golden. Stand 5 minutes, on trays before transferring to a wire rack to cool.
Decorate biscuits with writing gel and pink sprinkles.


Tip: Biscuits can be made up to one week ahead. Store in an airtight container.