Hey TGs!
In the newest issue of Total Girl (with the ah-mazing K-Pez on the cover), I test out Dove and Wengie's glam routines! Yay!
Yep, I tried Dove's morning routine for a week (and had to wake up muuuuuch earlier than I was used to. LOL!). I also tested Wengie's night-time routine for a week and discovered the coolest hack. 😮

Wengie's night-time routine is all about winding down and squeezing in as much 'me time' as possible. Yassss, self-care! 💕
What I loved most about her routine is this clever snack idea! We take our snacks ~very~ seriously here at TGHQ - so this is a game changer. Are you ready for it?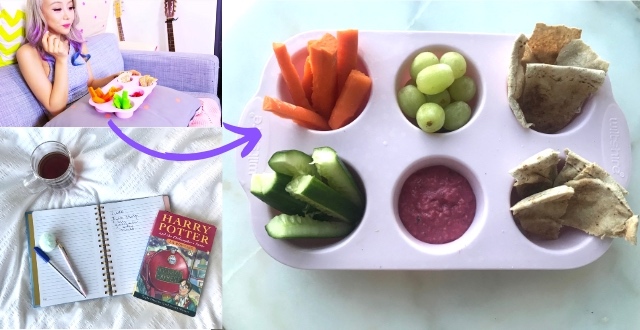 Fill a muffin tray with veggie sticks, fruit, toasted pita bread and dip! So simple yet so clever (and tasty!). 😋 It's perfect for an after-school snack.
She also likes to wind down after a busy day with reflective journaling and by reading her fave books. Dove's a fan of this too! Is anyone else re-reading Harry Potter at the moment?! Harry Potter fans, where you at?! 🐍⚡️
What do you think of Wengie's hack? And do you have any book recommendations?! 📚
Let me know in the comments below! 👇👇👇
Speak soon,
Rosie xo