Hey TGs,
OK, I love LEGO. Don't you? I love the colours, how you can build anything your heart desires and of course I love minifigures - the blocky little people who are too cute!
So I was psyched to go to the premiere of The LEGO Ninjago Movie in Sydney. I ran into this cool guy...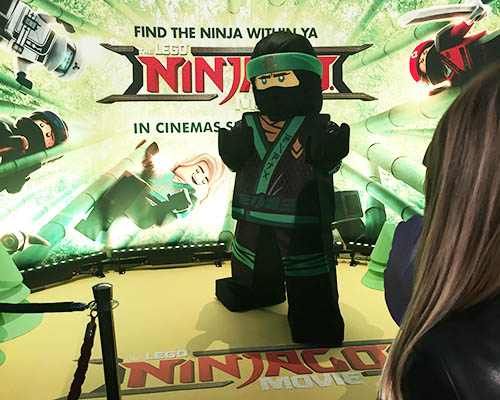 The movie had waaay more LOLs than I had foreseen. It's hilarious if you like martial arts movies and even if you don't. Truly, it's a giggle per minute and I can't stop singing this one silly song. Is it the new 'Everything is Awesome'? It might be!!!
In this flick, Lloyd, a teen boy, is troubled. He's troubled by how much everyone dislikes him and that most of this dislike stems from his super-bad dad, Lord Garmadon. Garmadon's crazy villainous ways are a threat to the city Ninjago. Can Lloyd and his pals, also secret ninjas, defeat Garmadon? Can Lloyd come to terms with having a four-armed papa who never says his name correctly (he always sounds both L's in 'Lloyd')? Will peace ever return to Ninjago? You'll have to watch the movie to find out, but I think you'll find it's a whole heap of fun. My fave character is Master Wu, voiced by Jackie Chan. He has some of the best lines in the movie and there are quite a lot of great ones.
Are you going to watch The LEGO Ninjago Movie? Let me know in the comments what you think!
xo Claire