Hi TGs!

Da da, da-da-da DA DA, da-da-da DA DA, dun dun dun DUNNNN. I've been singing the Star Wars song non-stop since I went to the Sydney premiere of The Force Awakens last night. I even did it in my sleep!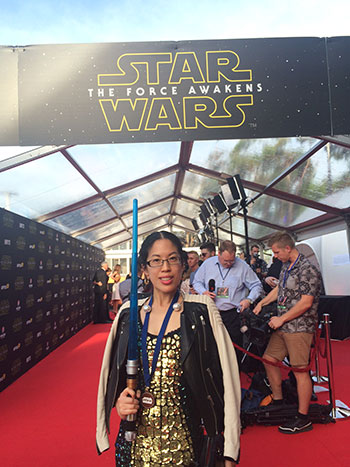 Because, OMTG, is this movie EPIC! I should say early on it has an M rating, which means it's only suitable for older TGs.

I went to the premiere with TG's Erin, who makes the very website you are looking at right now. First thing we saw? A Stormtrooper DJ! Coolest!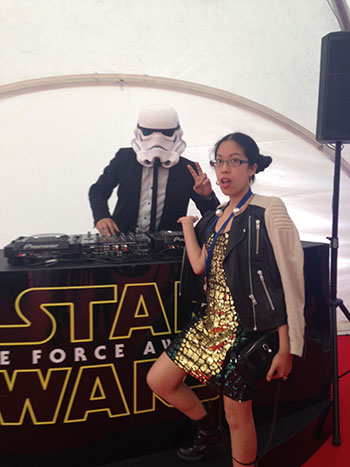 By the way, when I saw him without his helmet, he was a bit of a sweaty mess. Being a Stormtrooper is hard.
We also saw amazing models from the movie, like srsly bad dude Kylo Ren and yep, another Stormtrooper.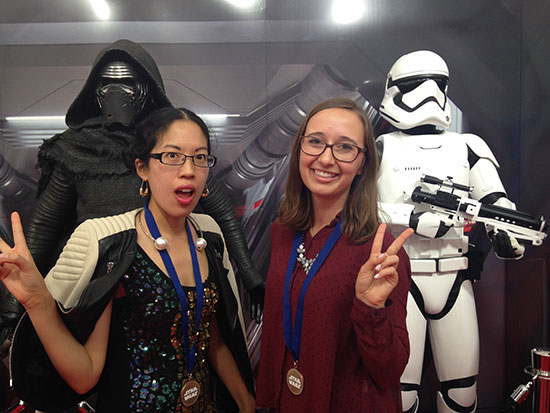 This little guy is BB-8 the droid and what a cutie he is! In the movie, it's amazing how expressive he is – he can be happy, sad, funny and all sorts of other feels too.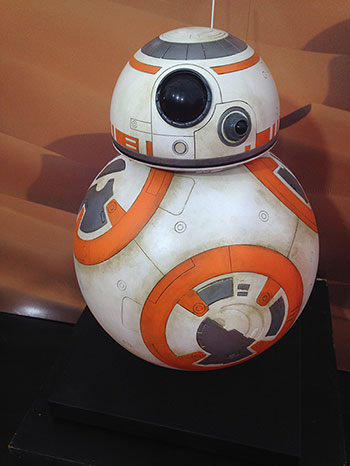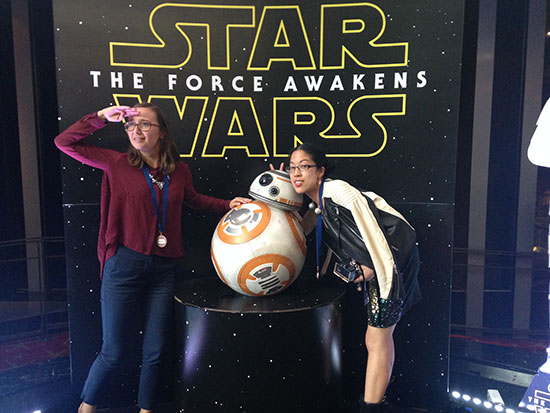 Here I am with Erin again and I've got my Google Cardboard, the Kylo Ren version (coz I think the Dark Side is cool). I guess it's a kind of box you put on your face and you see the world like you're in a video game! It works through your phone and an app.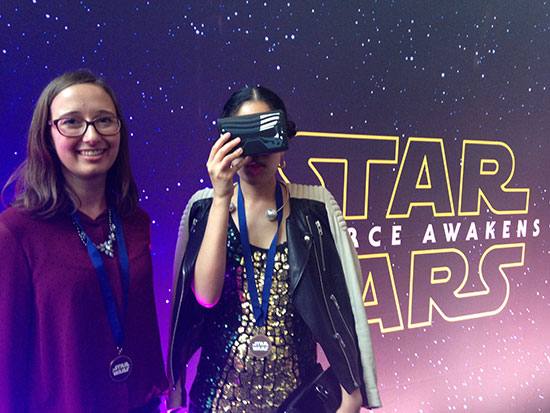 BUT WHAT ABOUT THE MOVIE? Well, I'd never wanna spoil it for you, but there's a new girl character you should know about – her name is Rey, she's played by Daisy Ridley and, safe to say, she will be your new fave. She is the coolest! She is unstoppable. She also rocks a rad looped ponytail that I'm going to teach you how to do so stay tuned…
ARE YOU EXCITED ABOUT STAR WARS: THE FORCE AWAKENS? Leave me a comment and tell me who your fave character is!
Xoxo Claire
UPDATE: Find out how to do Rey's hair from the movie in my hair tutorial on the Beauty Blog!