Hey TGs!
We're super excited here at TGHQ because there is a brand new TV show coming out on Nickelodeon called 100 Things to Do Before High School. It's totes amaze, we know you're going to LOVE it as much as we do!
It's about this girl called CJ who has a list of all the things she wants to do before high school. She and her BFFs, Fenwick and Christian go on all these fun adventures trying to tick all these crazy things off CJs list!
Sounds fun, right? We thought so too, so some of the TG team are going to take on a few of the challenges from the show, like having to say yes to everything for a WHOLE day, or facing your worst fear!
Get ready for some fun adventures TGs!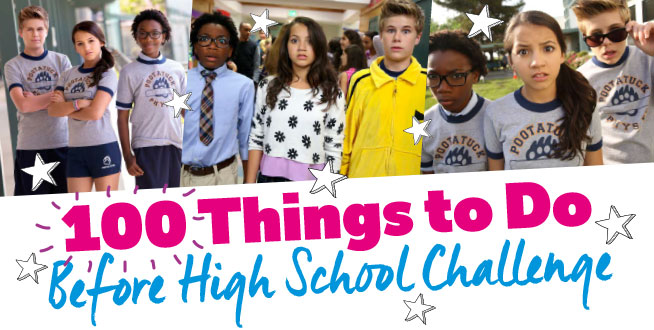 Hi guys!
So, to celebrate the brand new TV series from Nickelodeon, 100 Things to Do Before High School, team Total Girl are gonna take on some fun challenges that we get to tick off our own bucket lists! I was the first to go and I gotta say my challenge seemed pretty hard – for a WHOLE DAY, I had to say "Yes!" to everything I was asked. Aaagh!
I decided to do it on the weekend coz then I would have cool, fun stuff to tell you! And I decided not to tell anyone that I had to say yes, otherwise my sister would DEFINITELY start asking me to do silly things because she can be the WORST like that.
The first thing that happened was my friend called and asked if I wanted to go for a walk with her and her cute Italian Greyhound, Hugo. Um, YES! That wasn't a hard one to say yes to, haha! We had the best time – we went for a huge, long walk through the park and let Hugo run around off his lead to play with other dogs.
When I got home, Mum asked me if I could water the garden. She was a bit surprised when I said yes with absolutely no whinging! It was actually really nice to help Mum out, she was really grateful and then she asked if I wanted to have lunch with her – yes again!
We bought some stuff from the grocery store and had a mini picnic outside. My sister came too, so it was a big family affair! It was really nice. Then I got another phone call – my friend Aimee wanted to go to the movies. I had actually already seen the movie she wanted to go to (Pitch Perfect 2), but because I had to say yes, I agreed to see it again! I thought it'd be really boring seeing the same movie, but I actually loved it – I laughed even harder at all the jokes!
At dinner my sister asked if I wanted to get Thai food and even though I really felt like pizza I said yes – but it was still delish.
All in all, a pretty great day! I should say yes more often!
Mel x
FYI TGs, 100 Things to Do Before High School starts this Saturday, August 29th and will be on Nickelodeon every Saturday from 5pm!