OMTG. Do I have a cool story for you! Last week I got to do the most amazing thing ever – I got to visit Los Angeles in the USA for the premiere of Disney's new movie, Descendants.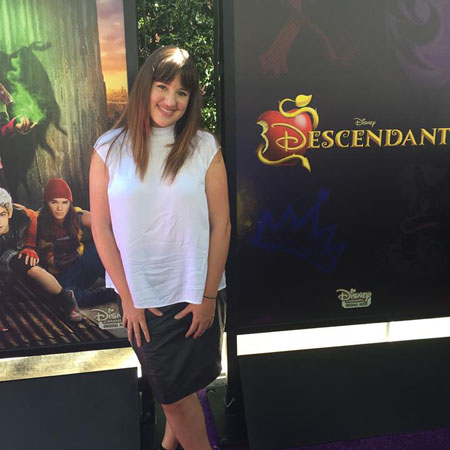 Me at the premiere!
The movie is all about the kids of your fave Disney heroes and villains. They're all grown up as teens now, with the villain's kids living on the Isle of the Lost, and the heroes kids in Auradon, which is all the Disney kingdoms united as one under King Beast and Queen Belle, from Beauty and the Beast. When their son, Prince Ben, is about to become King, he invites the kids of the villains to come to Auradon and attend school with all the heroes' kids. Sounds pretty exciting, right? Totes wanna know what'll happen next, right??
Well, I'm not gonna tell you coz I don't want to ruin it. What I WILL tell you is that Descendants stars the super talented Dove Cameron from Disney's Liv and Maddie, except she has PURPLE HAIR guys and is nothing like Liv OR Maddie! It's pretty cool to see Dove playing a totally diff role. I'll also tell you that there are loads of super catchy songs and amaze dances in the movie. Plus, I LOLed so many times, it's super funny.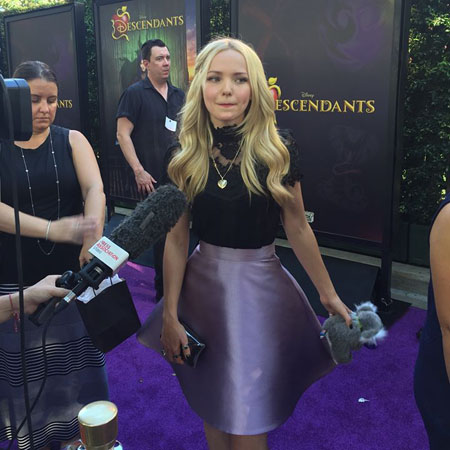 Dove Cameron!

But anyway, back to the premiere! We went to the Walt Disney Studios for it, which was SO COOL coz it's a real actual movie production studio and I kept thinking I might run into a famous person! I didn't – BUT there were famous people galore on the red carpet for Descendants!
Wait, did I say red? I meant PURPLE – yup, the carpet for the Descendants premiere was purple just like Dove's hair in the movie! I got to talk to all the stars, and everyone was super nice – but best of all was Dove, because she was like "Total Girl! I know you guys! I love you guys!" – GUYS DOVE LOVES US ALL!!!!
I have video proof of this, but I can't show you just yet. Keep checking back on the TG website though coz we will totes be putting a video up for you of the premiere!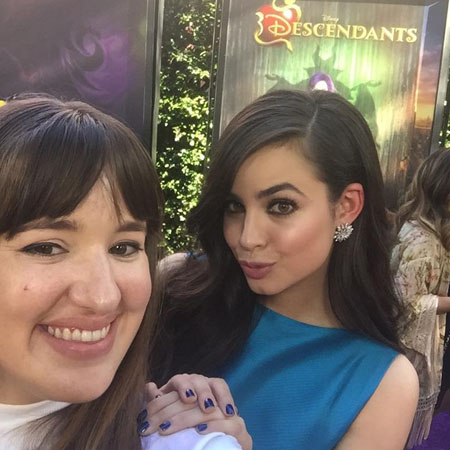 Me and Sofia Carson (Evie!)
For now, tune in to the Descendants premiere – it's on Saturday, 1st August at 7pm on Disney Channel. I reckon you guys will love it sooooo much! I know I did.
Mel x