E-Man from Justice Crew
knows how to shred the d-floor but now he shows off his skills as a TV host for brand
new show: Breaking The Beat
!
TG's Alex got the lowdown from this super cool triple-threat.


Alex: How did you get into break dancing?
E-Man: One day I saw a guy break dancing on some lino on the basketball court. I was so impressed while I was watching so I asked him to teach me. He saw that I had talent and he started teaching me tricks. He eventually became my mentor.

A: What is the coolest dance move you like to use to impress your audience?
E: It's called an air flare. It's a move that's athletic and it's kind of gravity defying. It's like a spinning tornado at a 45 degree angle and you land on your hands and then push yourself up and keep spinning. It's like a hands-free tornado!
What should you do if you make a mistake during a performance?
I've slipped up many times but I smile and I make it look like it was part of the act! You just have to keep going and not make a big scene of it.
Do you get nervous before you start performing?
I get nervous every time I am going to perform. But I try to use the nerves to my advantage to pump myself up to do an even better job. It's all about harnessing your nerves so you can encourage yourself and make it good energy not negative energy.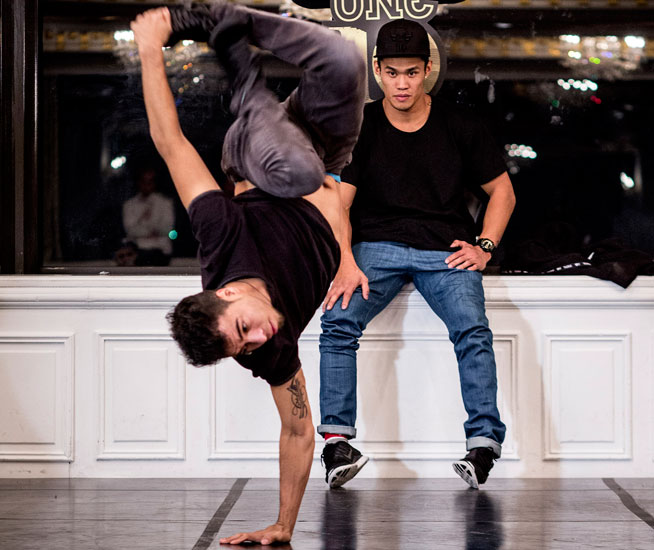 How did you score the role of being a host for Breaking The Beat?
It was really all recomendations from other B-Boys and my mentor. They all knew that I was a part of a recognisable dance crew (Justice Crew) and I know the history, the technicalities and the terminology of break dancing so they thought I would be a good fit and hopefully I did a good job.
Tell us a little bit more about the show.
It's a production that goes into the history of break dancing and how it's developed in different countries. It's also the world's biggest break dancing competition where 16 of the best breakers from each geographical region compete against each other first then the best from each region go into compete on the world stage to find the winner.
What are some misconceptions you want to dissolve about break dancers?
A lot of people think we're all street kids that can dance. That there isn't a discipline but the truth is that there's a history and so much discipline and technique involved. We're more than just street kids.

Catch E-Man hosting Breaking the Beat on Go! this Sunday (March 9, 2014) and next Sunday at 6pm.