Did you ever wonder what the life of Disney's villains was like behind the scenes? Well turns out they all have families, and their children are high schoolers! Introducing Disney Channel's new movie, Descendants, about the lives of four Disney villain descendants!
Meet the main characters!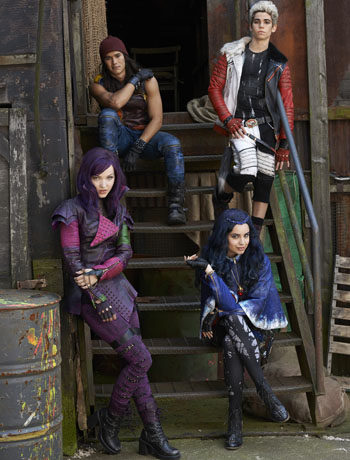 One of the characters of the movie will be Mal, daughter of Maleficent from Sleeping Beauty (and also played by one of our faves, Dove Cameron from Liv and Maddie). She seems like she's gonna be feisty and maybe even the ring-leader of the teen villains! Plus, we love her purple hair.
Then there's Evie, daughter of the evil queen in Snow White, played by Sofia Carson! She may seem glam, but she's sneaky and scheming, so don't be fooled…
Jay is the son of Jafar, the villain from Aladdin, and he's proud of his dad for having great style and being the ultimate trickster. But how's he gonna fit in at school?
Finally, Carlos is the son of Cruella DeVil from 101 Dalmations, but he hasn't quite got the same fearsome personality as her!
You can watch Descendants on Disney Channel, Saturday August 1 at 7pm.