In our September mag (got yours yet?) we chatted to Taylor Henderson, The Vamps and The Collective.
Here's the rest of their super ah-maze chats with TG's Claire.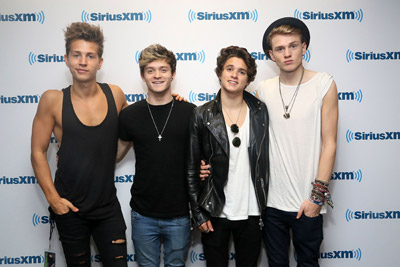 THE VAMPS
What would you like people to get out of your music?
Connor: To feel good, I guess.
How did you choose your band's name?
Bradley: It was just me and James about three yeas ago. We were going through a few names and we landed on The Vamps. It felt right. We wanted to be "The something".
I think your fans are the Vampettes. Is that true, or is there another collective noun?
Bradley: A lot of them don't like that name, they are just called 'fans of The Vamps'.
Do you carry anything for good luck?
Connor: I have the Deathly Hallows on a pendant, I was given it the other day.
What's the weirdest thing a fan has done to you, and how did you respond?
Bradley: A funny thing happened outside a hotel in Manchester. A fan came up to James and just held onto him. For about 10 seconds. I think he was taken aback.
Can you spill a secret?
Connor: I haven't cut my toenails since we've been away.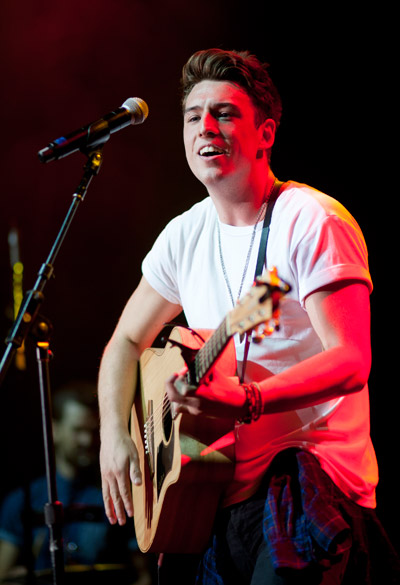 TAYLOR HENDERSON
What does fame feel like?
Taylor: Fame! I mean, I guess I sometimes don't even think about it, I just like to write music and I like to share it, it's sort of what I do.
What is the coolest or sweetest thing a fan has ever done for you?
Taylor: Someone made this massive paper mache microphone, a mic stand and everything like and it had like engraved Taylor and stuff on it so. And I mean that was really cool. Getting that home was a challenge.
What's the weirdest thing you can do?
Taylor: I can control the muscles in my eye really well. I can do it whenever I want! I can turn my eyeball the other way.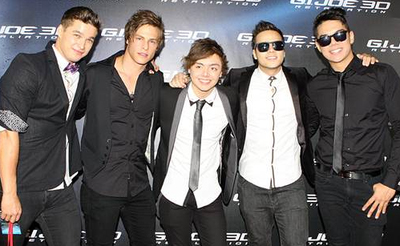 THE COLLECTIVE
How's your music going?
Jayden: It had been a year since our last song and that straight up is a bit hard for us, you know were musicians we love to express ourselves through music and since last year we haven't been able to do that to the public, you know we've just kind of been huddle up you know rehearsing, writing and expressing ourselves through to each other which we now know pretty well we just want to get out there and we hope everyone really loves it as much as we do.
What will come after Burn the Bright Lights for you?
Jayden: We're writing a lot together. We want to take it song by song, to actually make music worth listening to.
Got any crazy fan stories? Do you guys get mobbed at airports?
Jayden: Sometimes people would come to the airport and it was just phenomenal. Like 300 or something Australians and police were on the scene, It was manic and we loved it, just amazing.
It's cool you write together and collaborate.
Trent: Yeah, because in our heart we are true musicians and it's good to keep in touch with your foundations.
Check out page 14 of the September issue for more Boy Band awesomeness!