TG Ashley is having a sleepover with her friends these holidays and requested some sleepover games!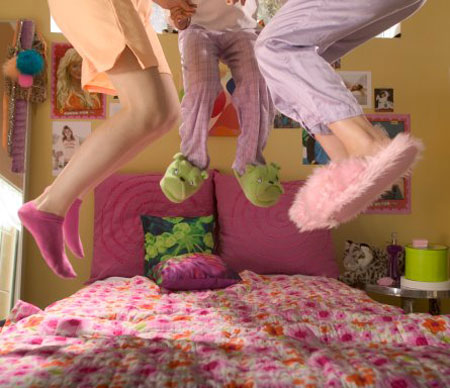 We LOVE sleepovers at TGHQ and use any excuse to have one (winter, summer, birthdays, Christmas, LOL!).
Here are our fave games:
M&M Magic
Put a plate full of M&Ms (or Smarties) on the floor, and all sit in a circle around it.

Everybody uses a drinking straw to transfer as many lollies from the plate to their own bag (lunch bags work perfectly!) by sucking the M&M to the end of the straw and releasing it into the bag.

At the end of three minutes, the person with the most M&Ms, wins!
Sleeping Bag Swapsies
Roll a die. The first person to roll an even number (e.g. 2, 4 or 6) is 'IN' and must leave the room.
The remaining guests all jump into each other's sleeping bags and make sure they're fully covered, then they call the person outside back in.
Everybody disguises their voice then says, "Swapsies", one by one.
If the person who is IN correctly guesses who's in someone else's sleeping bag, that person is now IN and must leave the room for the game to begin again!
Dare Dice
Before your guests arrive, find a cube shaped box, cover it with white paper, and write a fun challenge on each side, like 'Sing a Katy Perry song' or 'Do the Gangnam Style Dance'.
Make sure you provide hair brushes for microphones and sunnies for Gangnam Style!
Don't really like playing games at sleepovers? Tee up your fave movies for a movie marathon, or choose an epic playlist, turn out all the lights and have an inpromptu disco!