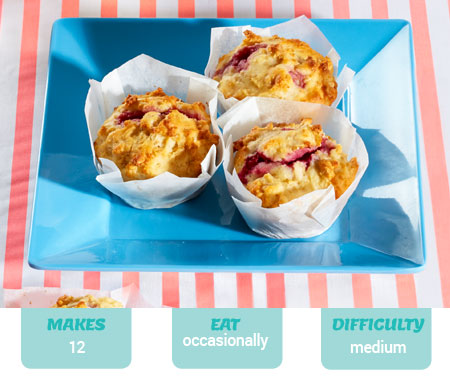 What you need:
1 cup self-raising flour
¾ cup wholemeal self-raising flour
½ cup caster sugar
1 cup natural rolled oats
1 cup thick Greek yoghurt
75g unsalted butter, melted and cooled
2 eggs, lightly beaten
½ cup frozen raspberries, thawed
What to do:
Preheat oven to 180C, fan forced. Line a 12-hole muffin pan (1/3 cup-capacity) with muffin cases.
Sift flours into a large bowl. Stir in sugar and muesli. Make a well in the centre. Add yoghurt, butter and eggs. Stir until just combined.
Divide mixture evenly between muffin cases. Evenly press raspberries into the centre of each muffin. Smooth over tops.
Ask an adult to help you place pan in oven. Cook for about 20 minutes, or until lightly golden and cooked. Stand in pan for 5 minutes, before transferring to a wire rack to cool.
Serve warm or at room temperature.

Tip: Try replacing raspberries with blueberries or mixed berries