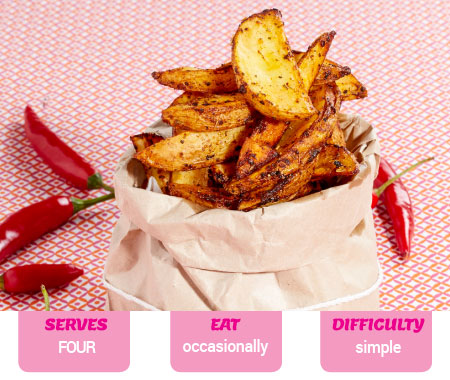 What you need:
750g brushed potatoes

1 tablespoon barbecue seasoning

1 teaspoon mild paprika

1 teaspoon mixed dried herbs

2 tablespoons olive oil

Tomato sauce, to serve
What to do:
Preheat oven to 200 degrees Celcius, fan forced.

Wash potatoes under cold water to remove all dirt. Pat dry with absorbent kitchen paper.

Ask an adult to help cut potatoes into 2cm thick wedges. Place in a large snap lock bag. Add seasoning, paprika and herbs. Seal bag closed. Shake bag to evenly coat wedges. Transfer wedges to a large roasting pan with oil. Toss to coat.

Ask an adult to help you put pan in oven. Cook for about 40 minutes, turning halfway, or until wedges are golden brown and crisp. Serve wedges with tomato sauce.
Tip: Try serving wedges with sour cream and sweet chilli sauce. If you like spicy food, add ¼ teaspoon dried chilli flakes with seasoning.