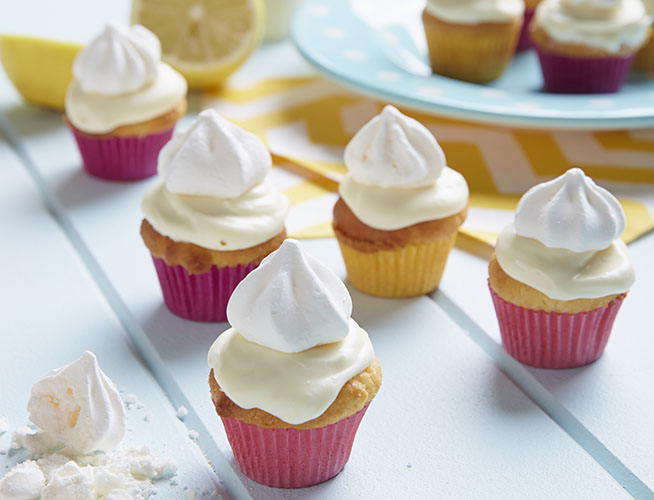 Preparation Time:
30 minutes
Cooking Time:
20 minutes
What you need:

-
100g salted butter, at room temperature
- 100g cream cheese, at room temperature
- 1/2 cup caster sugar
- 1 tsp finely grated lemon rind
- 1 egg, lightly beaten
- 1/2 cup self-raising flour
- 1/2 cup plain flour
- 2tbsp milk
- 24 mini meringues
- Extra finely grated lemon rind, to decorate
For the Lemon Cream:


- 2 tbsp lemon butter
- 1/2 cup thickened cream
What to do:

1.
Line 2 x 12-hole mini-muffin pans (1 tablespoon capacity) with mini paper cases.
2.
Place butter, cream cheese, sugar and lemon rind in a bowl. Beat with an electric mixer until light and fluffy.
3.
Combine and sift the flours then pour the milk. Stir until just combined. Divide mixture among paper cases.
4.
Ask an adult to help you cook in a moderate oven (180 degrees C) for 20 minutes, or until firm when tested. Stand in pans for 5 minutes before turning out into a wire rack to cool.
5.
To make lemon cream, place lemon butter in a small bowl. Beat with an electric mixer until smooth and pale. Add cream, then beat until mixture has thickened. Spread lemon cream over cakes. Top with mini meringues. Decorate with extra rind.
Tips:

1. Meringues are available from supermarkets.
2. Cakes can be made two days ahead and stored in an airtight container in the fridge.
3. Stand at room temperature for 15 minutes.
4. Top with cream a few hours before serving.