Eat occasionally!

What you need: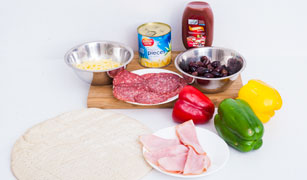 Pizza base

Pizza sauce

Grated cheese

Capsicum

Pepperoni
What to do:
Heat the oven to 180 degrees fan-forced (ask your 'rents for help).

Spread pizza sauce over your pizza base.

Put chopped capsicum, pepperoni on pizza base

Cover with cheese

Cook in oven until the cheese is melted!