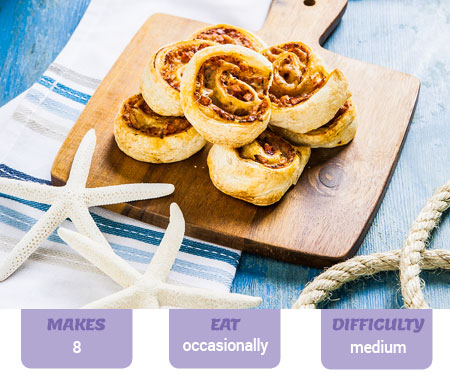 What you need:
1 sheet frozen puff pastry, partially thawed
2 tablespoons tomato-based pizza sauce
1/3 cup diced bacon (deli)
1/3 cup grated pizza cheese
½ teaspoon dried mixed herbs

What to do:
Pre-heat the oven to 200°C. Grease and line an oven tray with baking paper.
Place pastry on a clean chopping board. Spread pizza sauce evenly over pastry, leaving a 1cm border around all edges.
Combine bacon, cheese and herbs in a bowl. Sprinkle over sauce. Working from one edge, roll up tightly to enclose filling. Ask Mum or Dad to help you cut into eight equal portions. Place on prepared oven tray, about 2cm apart.
Ask an adult to help you place tray in oven. Cook for about 15 to 20 minutes, or until pastry is golden brown and crisp. Stand 5 minutes, before serving.
Tip: If pastry is too soft when rolling, freeze for 10 minutes before cutting into portions, this helps the pinwheels hold their shape when baking.