So we just had the BIGGEST storm where I live! It all started on Friday afternoon at school. These big grey clouds were rolling in, and our teacher let us go out and watch at first, but made us come back inside when they got close because she thought it was too dangerous, in case lightning started. Which it did! It was so bright it lit up the whole classroom, and my friend Colin said it must be really close above us, because the thunderclaps happened almost as soon as we saw the lightning. Mum came and picked me and Holly up after school, because it was so rainy. When we got home she had put Cotton in the laundry because he got really spooked by the loud noises, and Chloe our new kitten was in the lounge room so she didn't get wet. She didn't care about the thunder though; in fact we think she actually liked it! She stood at the window watching the rain and the lightning, haha!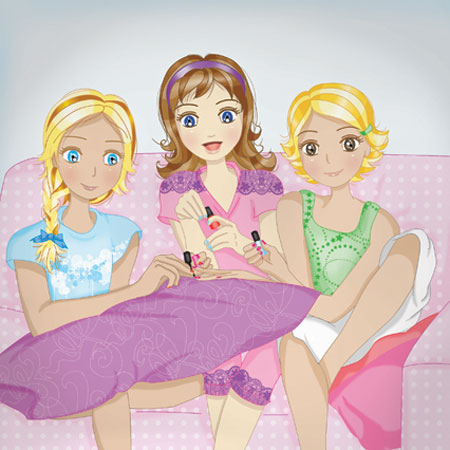 Sometimes me and my friends paint our nails during a storm too!
Holly loves storms, but I am a bit scared of them. Not TOO scared, but when it's really close like this storm was, the noise gives me a bit of a fright. Mum said we couldn't have the TV on until the lightning stopped, because if the lightning hit any power grids in our area it could turn it off suddenly and it might be dangerous if the TV broke. So Holly and me pulled out Scrabble and played that, which was really fun actually because we hadn't played board games in ages! We were having so much fun we also decided to do a puzzle – how fun are puzzles?! I totally forgot how great they are. Ours has a picture of a basket of cats, and one looked SO MUCH like Chloe! I brought Chloe over to show her, but she didn't seem very interested, she just stepped all over the puzzle and then ran away to watch the storm again, haha.
Do you like storms like Holly? Or are you a bit scared like me. And what do you guys do for fun when you aren't allowed the TV? Let me know in the comments!
Until next time,
Jessie x