Hey TGs!

We're super excited here at TGHQ because there is a brand new TV show coming out on Nickelodeon called 100 Things to Do Before High School. It's totes amaze, we know you're going to LOVE it as much as we do!

It's about this girl called CJ who has a list of all the things she wants to do before high school. She and her BFFs, Fenwick and Christian go on all these fun adventures trying to tick all these crazy things off CJs list!

Sounds fun, right? We thought so too, so some of the TG team are going to take on a few of the challenges from the show, like having to say yes to everything for a WHOLE day, or facing your worst fear!

Get ready for some fun adventures TGs!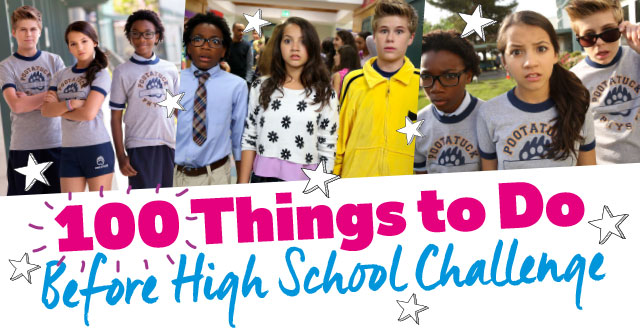 Hi guys!
I'm facing my challenge for Nickelodeon's brand-new TV series 100 Things to Do Before High School head-on and scrambling to find my creative jam! It's all about looking for things to inspire me and get my creativity flowing. Funnily enough, as I write this I am experiencing what people call 'writer's block'! That's when I've lost all my creativity and I have to find my jam again!
Every time this happens (and that's every now and then), the very first thing I do is get up from my desk and 'shake it off'. Tay would be super impressed with my shaking skills!
I've always found my mates can be a perfect distraction – and at the top of my list is my bestie Nat! I'll call her when my creativity is low and we'll usually just catch a movie or hit the shops. There's nothing a new pair of sneakers can't fix!
I also love just chilling out to music and Ed Sheeran's tunes are always so inspiring! And then once in awhile I'll pop out to an art gallery and check out all the pretty exhibitions. When I get home it's not long until I'm back in the zone and feeling inspired!
So when you're feeling a little less creative, take my advice – you'll be creating greatness in no time!
Love, Lisa x