Hey TGs,
How was your weekend? I did two things on my weekend: indoor rock climbing; and watching Spider-Man: Homecoming at a special screening. I guess they're kinda related, huh? Only I don't have any crazy-cool powers and being able to scale a wall all the way to the ceiling is about as good as it gets for me. Spidey in this flick can crawl his way across a celing - so handy if you need to be stealthy.
I should say at this point this Marvel movie is for older TGs.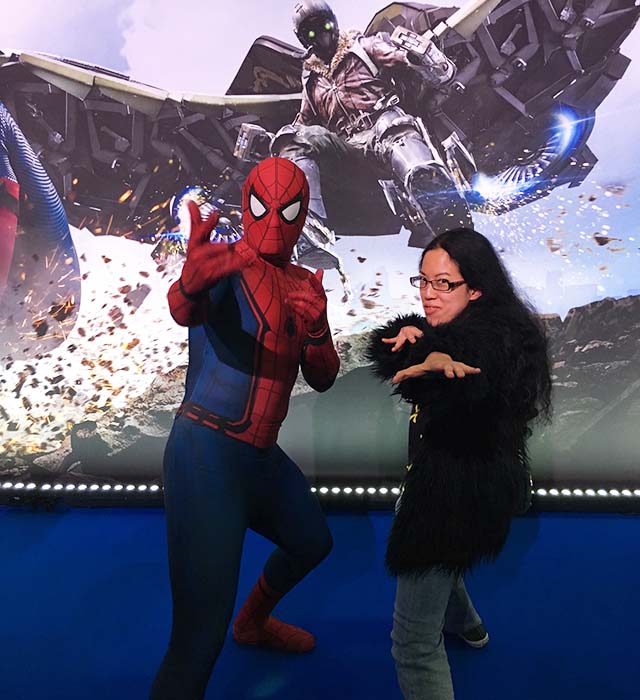 Do you like my cool Spider-Man stance? Pretty cool, huh?
OK, back to the movie. OMTG, it's just plain fun. It's hilar, well-written and the latest Spidey, Tom Holland, actually has super powers IRL. Well, kind of - he played Billy Elliot on stage in London. Billy Elliot, a character in a musical of the same name, is a boy who discovers his amazing talent for ballet. Tom, with his background in dance and acrobatics, can flip all over the place without breaking a sweat.
His character is sweet, geeky and vulnerable. There's lots of joy in watching him figure out how to be a superhero, I guess because it would be like that for us as well - even if you're talented, you've got to take your talents out for a spin, and sometimes you fly, and other times you go splat. He does both.
But I have to mention Michelle - that's the character played by TG fave Zendaya. Can't give you any spoilers but I will say she's nearly unrecognisable and a very different sort of Z from the one you see on the small screen.
Spider-Man: Homecoming is in cinemas on July 6. Are you going to see it? Let me know in the comments!