Hey TGs!
Straight up, I've gotta say... SPOILER ALERT, SPOILER ALERT, SPOILER ALERT.
If you've been waiting for Descendants 2 (you so have) - like, maybe you read about it in the August issue of Total Girl with Dove Cameron on the cover - have I got the scoop for you!
I saw Descendants 2 at the Sydney premiere yesterday. Here are some cool things about this premiere: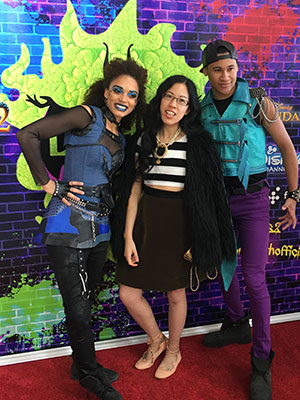 1. They gave us delish shiny red toffee apples. I'm going to share mine around in slices at TGHQ.
2. They also gave away these personalised hats! I saw TG friend Ange from Little Angel with her sisters at the premiere and they got their own cool hats. Super stylin'.
3. Some actors in great costumes (studded pink leather jacket? Um, yes please!) came out and danced for us live before the screening. Backflips and everything!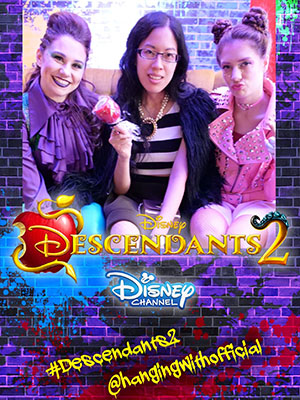 BUT what about the movie, I hear you ask...
It's just plain fun. The dancing is amazing - just wait for the jaw-dropping finale. I also love the songs. 'The Space Between', a duet for Mal and Evie, is a song about how even if you and your friend realise you belong in different places, you can still find a place in the middle where you can belong together. It was beautiful.
Descendants 2 is also quite hilar in places. Also, love that OTT fashion. Evie, who is my kinda gal, wears something like three accessories around her neck at any moment: some sort of red bling over a wide choker in deep blue with a bejewelled red choker. Ah-Ma-ZING.
Dove and everyone else is looking a little more grown up and we get a sense that she's struggling with her identity. Will the soon-to-be King, Ben, like her for who she really is? Let's hope so, because trying REALLY hard to be something she's not in pastel Auradon is really getting her down. When she runs back to the Isle of the Lost, because it feels more like home than high-stress Auradon, Uma, daughter of Ursula (China Anne McClain) has decided to stir up all sorts of trouble.
I think we're going to see a lot more of China Anne. Her singing voice is too good - it's powerful and she can really belt it. She's such a strong presence on the screen and is the perfect anti-heroine to face off against Mal.
But wait... how do you have anti-heroines when your heroine is a villain? [insert thinking face emoji here]. I mean Uma is our main baddie but I ended up feeling quite sorry for her.
That's all I wanna reveal for now. To read interviews with the Descendants 2 cast, grab your copy of Total Girl's August issue with Dove on the cover. And catch Descendants 2 on July 28 at 6.30pm on Disney Channel.
Are you going to tune in? Who's your fave character? Let me know in the comments!
Claire xo