Oh hey guys!
I know it's been a reaaaallly long time since I posted (soz about it) but here I am again coz I wanted to tell you how much I loved
Finding Dory
. You've probs seen it by now, yeah? If not, get to the cinema stat coz it's just gorgeous.
I was lucky enough to get to go to the Sydney premiere screening with TG's Jess, of Jess' Entertainment Blog! Jess is an amazing red carpet reporter, exactly like you'd imagine, so by her side I got to mingle with some pretty epic celebs.
So yeah just casually here we are with
Modern Family'
s Ty Burrell (he plays dorky dad Phil Dunphy) - in
Finding Dory
, he voices a beluga whale, one with messed up echolocation. He is super, super funny, both IRL and in the movie. "I play an idiot [in
Finding Dory
]... which is not a stretch for me," he told us.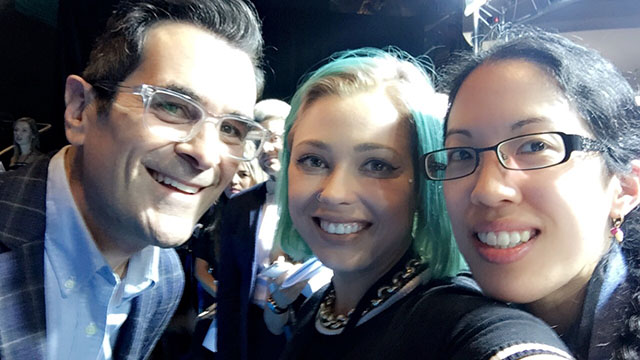 Disney's sequel to
Finding Nemo
includes a ridiculously adorable baby Dory (she's so small she's mostly eyes) and it's also worth the price of admission just to see the short film before it,
Piper
. It's about a little sea bird and maybe it's the cutest thing ever? I mean while I was watching it I started crying a little because the cuteness was nearly too much to take.
Anyways, here are 5 did-you-know facts about
Finding Dory
:
1. The original voice of Nemo, Alexander Gould, voices a grown up in
Dory.
He lends his voice to one of the truck drivers who pops up at the end.
2. Ed O'Neill, also from
Modern Family
, plays Hank the cranky escape-artist octopus who helps Dory. Did you know octopuses really ARE amazing at escaping? Earlier this year, an octopus called Inky freed himself down a pipe from an aquarium in New Zealand. Speaking of Hank, he was legit the hardest animation Disney Pixar had ever done.
3. Becky, the crazy-eyed but still helpful bird, is named after a Becky who works in production at Pixar.
4. There are 5,000 stingrays in the stingray migration scene, according to Pixar Post.
Have you seen this fishy tale yet? If so, let me know your thoughts in the comments!
xo TG's Claire