Hi TGs!
I'm soooo excited for Easter! I loooove chocolate, OMG how good is it?! And it's like the one day of the year that Mum and Dad let me eat as much chocolate as I want. I eat it for breakfast, lunch AND dinner. I end up feeling really sick but it's totally worth it.
Every Easter morning, I wake up reeeally early coz I want to catch the Easter Bunny hiding my eggs. I've never seen him though! I thought I did once when I was with Holly, but she said it was just the wind blowing the jasmine bush and not a white tail bouncing away.
The Easter egg hunt is my favourite. The Easter Bunny always finds funny new places to hide eggs! Last year we found one in the washing line peg basket, and one in this hanging pot plant. I don't even know how he got up that high!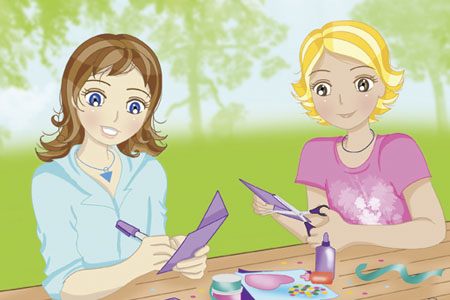 I also love the Easter Hat Parade my school does. Everyone has to make a cool hat that uses Easter eggs, and our parents come and we walk in a big circle in the playground to show off our cool designs. I've already started making mine with Mum, it's going to have eggs dangling off ribbons all around the brim! It already looks so cool.
What do you love most about Easter? Do you do cool things for school too? Do you have a funny Easter egg hunt story? Let me know in the comments!
Love, Jessie