Hey TGs!

OMG GUYS today was so good and filled with delicious food!!
So yesterday Mum told me that when I got home from school and finished all my homework she'd teach me how to bake! So I raced home from school and did all my homework coz I was so excited.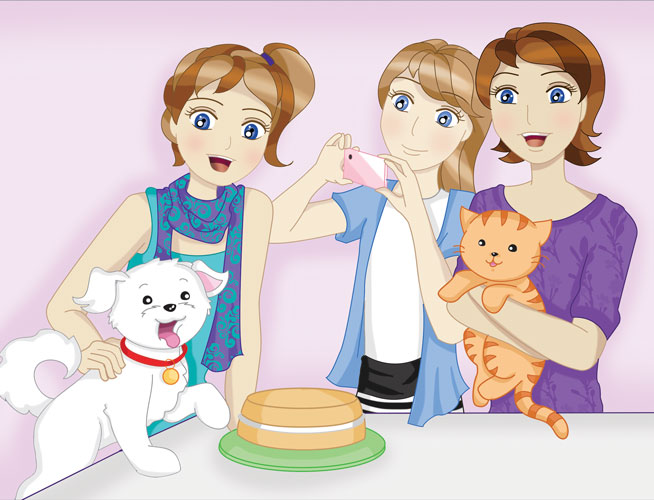 Anyway when Mum got home from work she kept her promise and we made BROWNIES! Have you ever had a Brownie? It's like a delicious, gooey, chocolatey little square of cake! WOW just thinking about it is making me hungry! I'm going to go eat one as soon as I finish talking to you guys! Hopefully Holly didn't eat them all!
Ok so the one that Mum showed me how to make only had 6 ingredients in it and we already had them all in the fridge! Which was awesome coz then we didn't need to go ALL the way to the supermarket. We used butter, cocoa, brown sugar, eggs, flour and chocolate chips.
Holly came home from school and she helped Mum do lots of the things that are a bit tricky for me – like using the oven and the microwave. It was fun to hang out just us girls!
Anyway Mum turned the oven on for us and we covered the tin in paper to stop it getting stuck, it's weird that this special paper makes it not stick, but so cool. We melted all the butter and cocoa in the microwave and then I added the brown sugar and I mixed it together. Then when I'd stirred it all up really good we added the eggs and flour and at the very end added the chocolate chips! We had to be really good and not eat them all before we mixed it together. It was SO HARD NOT TO EAT THEM! I just love chocolate a lot guys!
Holly put it in the oven and we put the timer on for 40 minutes! The best part was Holly let me lick the spoon and bowl all by myself – SO. MUCH. CHOCOLATE!
I had such a nice time with my Mum and sister and then at the end we got to eat brownies before dinnertime. Mum said it was a special treat.
What's your favourite thing to eat? Do you know how to cook it?