UPDATE (25/9/13):
Take our
WAT Quiz
and test your fangirl status!
UPDATE:
Check out Total Girl's profile of the new lineup for
What About Tonight?
!
Grab your tissues TGs, because one of our fave Aussie boy bands have split up!
What About Tonight?
have shared their sad news with
Total Girl's Alex
just days after the decision was made.
It looks like
Christian
and
Mitchel
have had to part ways with
Luke
,
Brock
and
Tyrone
due to their school commitments. There are no hard feelings there and the boys have assured us that they are all very much still best mates and are very supportive of each other.
So what does that mean for WAT?
Brock, Luke and Tyrone will keep the name
What About Tonight?
and continue as a group but they are
looking for a new band member
to join them!
Here's what Brock had to say about the split.
Brock: Unfortunately we had two of our members, Christian and Mitchel leave WAT. They left due to schooling you know they have to go back to school and study.
We support them as much as we can and as they do to us so yeah so we're just going to look out for a new boy band member and start auditioning real soon which is fantastic.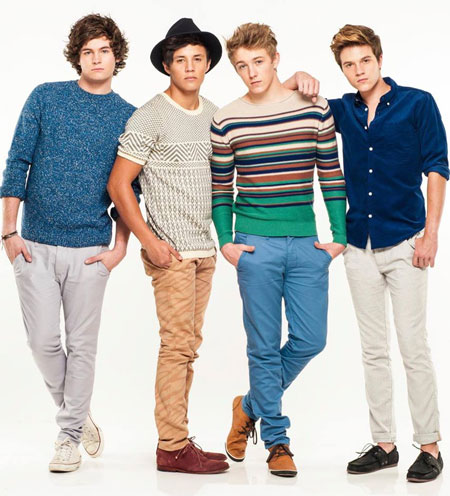 The new line-up of What About Tonight?
TG's Alex: That's really exciting, so what are you guys looking for in a band member?
Brock: Well we're just scanning out at the moment just to see you know, see what's there out in Australia here and you know, a vocalist, a male obviously someone who blows us away with their voice.
TG's Alex: So, girls can't apply?
Brock: They can if they'd like to.
TG's Alex: That's so exciting though, I mean, like it's very sad but it's also sort of like a new start for you guys.
Brock: It's definitely sad and we're very sad about it but we're still gonna continue and follow what we first started as a group.
TG's Alex: So, have any celebs sent you any audition videos?
Brock: Well, we've done a reach out and I'm good friends with all the Home and Away boys there and they're like, "Oh, we'll ask our friends and have a look around," and so we're just trying to see at the moment, it's quite fresh.
TG's Alex: Yeah, you should get one of those River Boys on with you guys.
Brock: Yeah, we'll get them to jump in the group. We'll chuck that in there and call it What About the River Boys!
TG's Alex: So do you guys think that you'll keep the name, What About Tonight?
Brock: Yes, we'll keep the name What About Tonight?. That's something that, you know, us boys came up with together and the other boys (Mitchel and Christian) are happy for us to keep going with it because that's what we are and it's worked for sure.