Have you ever read any of the
Dork Diaries
books before?
Well you must read
'Dear Dork'
- it is the
best book
in the whole series.
In this book Nikki, Zoe and her other friends are playing
truth or dare
when Zoe dares Nikki to toilet paper Mackenzie's house.
Well it doesn't go to plan because Mackenzie's dog Fi Fi catches them in the bushes, and as Mackenzie follows her dog she finds a big surprise. Looks like the
toilet paper caper
didn't go so well!
We recommend that people
14 and under
will absolutely love this book so hurry to the book store now and get your own copy of
'Dear Dork'
... you'll be sure to love it.
We rate this book a
10/10
. Trust us you'll love it!!!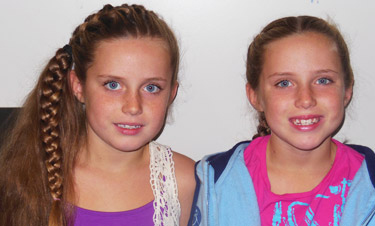 Our fab readers, Brooke and Jasmine!
P.S. The new
Dork Diaries
book,
'Holiday Heartbreak'
in stores from 1 June 2013!