If there's one thing we know about Tay-Tay by now - other than that she's an amaze singer, super cool person and style queen - is that she can bake ANYTHING.
Celebrity chef Jamie Oliver recently decided to challenge Taylor to a baking competition for charity.
The competition got off to a cray cray start when Taylor pretended that had she never heard of Jamie before, calling him all kinds of wrong names like 'Jimmy' and 'Jeremy'.
Then, Jamie sung his cooking instructions to the tune of 'Shake It Off'. Poor Tay just covered her ears and rolled her eyes! LOL
You thought that was bad? Once the oven mits were on, Jamie started belting out,
"Pop stars can't bake, bake, bake, bake, bake" – uh-oh! Taylor stared at him and retaliated with, "My cake's gonna taste great, great, great, great. Bake it off, bake it off!"
Of course, Taylor couldn't resist joining in with the silly dancing and the kitchen ended up suuuper messy. By the end, Taylor whipped up a totes incred seven-layer chocolate cake with a giant sparkler on top! WOO HOO! GO TAY!

OMTG...what can't Taylor do?!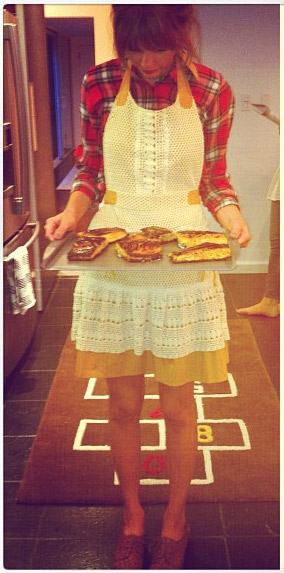 How adorbs is this pic from Taylor's Instagram? Tay, doesn't only bake - she COOKS too!