TG's Claire L got to chat to the voice actor of Gumball, Jacob Hopkins! He shared his amazing experiences of playing everyone's favourite 12-year-old cat in The Amazing World of Gumball. Read all about it!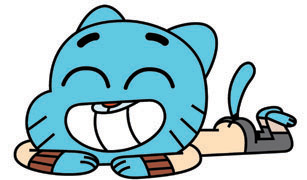 What's your funniest Gumball blooper?
In the episode "The Boss", one of Gumball's lines was supposed to be, "you're going to wear a suit and tie and get an office job", but what I accidentally said was "you're going to get a suit and tie and wear an office job." We all cracked up because I was the last one to realize what I said!
Who's your fave co star, and why?
My favourite is Sean Giambrone from The Goldbergs because he is always in the moment, tries new things, and is really fun to be around.

How'd you react when you found out you got the part of Gumball?
It blew my mind! I was so happy! Gumball was one of my favorite cartoons and I knew everything about it. I worked really hard to get the role, so I basically screamed, laughed, and was super excited!

Can you spill a secret about yourself?
If I told you it wouldn't be a secret!

Tell us about one of your fave moments as an actor.
One time I got my teeth professionally molded into real-life looking fangs. It was a wild process and I got to be in an awesome sci-fi / special effects studio. They gave me the tour and everything. I was nine years old and was being made to look like a vampire.
Read more about Jacob Hopkins and The Amazing World of Gumball in the January issue of TG, out now!