UPDATE:
Having trouble with Netpage? Try these tricks!
It only works from the October 2013 issue onwards. Our fab October issue (with One Direction on the cover!) is the first Total Girl magazine to use Netpage. If you try to scan an old copy of TG, it won't work. All future issues with have Netpage though!

You can only scan pages with the Netpage icon. We've picked the most exciting TG pages that have a cool online link, and these have the blue Netpage dot.

Double check your Netpage is set to Australia/NZ. Ask your 'rents for a hand to confirm your Netpage app is set to Australia/New Zealand, because, well, that's where TG is from!
OMTG - have you got the new issue of Total Girl? Our ah-maze Editor Amanda has a HUGE announcement: Netpage!
This app will bring Total Girl to life, and the best part? It's free! Simply follow the instructions below to
download
from the
App Store
or
Google play
, then watch cute videos, get extra content and link straight to more of your fave stories with a click!
Click to
download Netpage
!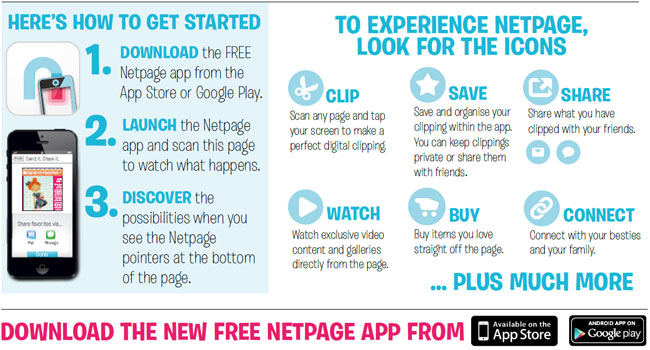 iPhone is a trademark of Apple Inc., registered in the US and other countries. App Store is a service mark of Apple Inc. Netpage is also available on Android devices. Using Netpage requires an internet connection and data charges may apply. Persons under 18 years of age should seek the bill payer's permission before downloading or using the app. Pacific Magazines takes reasonable steps to ensure any prices we publish are correct (as advised by the supplier) at the publication date. To the maximum extent permitted by law Pacific Magazines, accepts no responsibility for, and shall have no liability to you in relation to, errors or price fluctuations, the content of any services you access using Netpage, the safety and security of any data you transmit using the application or any data charges you incur. Terms and conditions apply. Visit www.pacificmags.com.au/netpage for details. Use of Netpage is for your personal and domestic use only, not for any commercial use. Pacific Magazines retains all rights to Total Girl and the pages within the magazine at all times.