TG reader Brooke requested a Katy Perry update. Here you go!
Katy Perry
's new single
Roar
is totally rad and everyone is super excited for her next album 'PRISM' to be released. Although 'PRISM' isn't scheduled to come out until mid October, Katy totally surprised us on Wednesday when she released her brand new perfume! The fragrance is called
Killer Queen
and smells absolutely AH-MAZ-ING… I can't wait to get my hands on a bottle!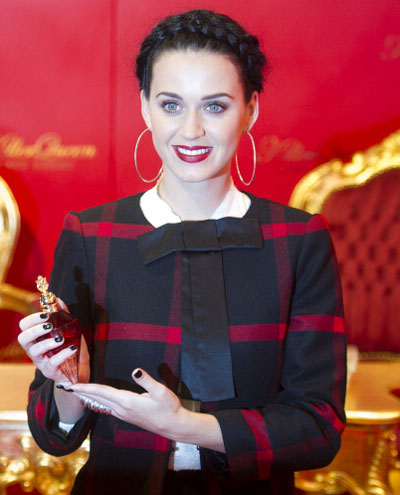 The top pop star rocked up in a cute red and black outfit, totally fitting in with her quirky fashion style.
We've always loved one Katy, and now we have two! Well… not exactly. A wax museum in New York unveiled a totally life-like model of the awesome 'California Gurl.' The whole thing is made out of special wax and took FOREVER to make… imagine trying to perfect every detail! Katy has a few wax statues around the world, but Australia's one is by far the best!
Katy has always donated money to charity, and now she is performing a one-night-only concert in Hollywood to raise money for cancer. The rockin' show is booked for the day after her new album is released and Katy is super excited, saying, "I'm so proud to be playing songs from my new record, PRISM, at the iconic Hollywood Bowl."
Great job Katy, we're totally loving your charity work!