Courtney won TG's comp to meet and interview
Sabrina Carpenter
! Here's what Sabs said…
What was it like working with the cast of 'Adventures in Babysitting'?
They were so down-to-earth, so kind but also so hardworking and passionate. We were all there because we wanted to make an incredible project that we could all be proud of and that we could use to help this new generation. I will never forget it! They've become like a perfect family. It's annoying almost how many Instagram photos we have together; we love each other that much.
That's great! What was the inspiration behind 'On Purpose'?
When I wrote 'On Purpose' it was almost a year ago and it really happened on accident, which is very ironic. Originally, the song was about not wanting to grow up. I'm the baby of the family and it was originally much more of an emotional song about just not wanting to grow up and wanting to stay young. Then it took this accidental turn and we just kind of built a story off of it. I feel like it does relate to so many people's lives.
I love it, by the way.
Thank you! You're so sweet – I'm glad that you like it.
I'm looking forward to your album as well.
I've been working on it for the past year now, just finished it three days ago and I'm so excited! It should be out, well, I can't say exactly but definitely sooner than later.
Do you have your own ritual before you go on stage to perform?
I don't have a specific tradition. I'm just always warming up and trying to take care of my voice as much as possible. So yeah, I do my warm-ups with my sister because luckily, my sister sings backup for me and has since I started so it's cool to have her with me.
I think you said on stage before that you're going on tour later this year!
I am!
That's exciting. Have you planned out where you are going yet?
Yes and no. It's in the process but nothing official yet.
Describe your upcoming album in three words.
Growth, experimental and soul.
What do you like to do in your spare time?
I just love spending time with friends and people that make me laugh. I write in my spare time, I'm always constantly writing, practising piano. When I have time, I go to the movies.
Craziest fan experience?
Once a fan tried to follow me home! They almost got to my house but they didn't so I guess that would be the craziest thing. I think that one was crazy because it was scary!
What is at the top of your bucket list?
Well, when I was younger it was to ride in a human hamster ball but I've accomplished that so, check! I would say going to Paris is at the top of my bucket list.
Favourite song to sing in the shower?
The whole soundtrack to 'Hamilton' the Broadway musical. It's magical!
What has been the best holiday you've been on?
The last vacation I went on was when I was ten years old and I went to Disney World. Before then, we went to Vermont and for some reason it was one of my favourites. It was a very random trip that I loved but I went ice-skating for the first time and we stayed at a bed and breakfast. I met another girl named Sabrina and it was the best weekend of my life.
What helps you get into character when you're playing a role?
It's all about surrounding yourself with that character's personality, how they would go through their life and how they would think and make their choices because it's always going to be different from mine so I take that into note when I'm playing a role. I'm not Sabrina, I'm somebody else. It's really weird but it's like you're raising a child. I'm sure it's nothing like raising a child! You don't have to change the diapers.
What character do you relate to the most?
Maya only because I've been in her shoes for four years now so I've been able to grow with her and I think that she's become a lot more like me, whereas with Jenny, I was only in her shoes for two months so I didn't really get to know her as well.
What advice would you give to someone wanting to pursue singing or acting?
There's so much harsh criticism that comes along with being in the world of singing and acting and entertainment in general. Everybody who has succeeded has dealt with that. No one has gotten to the top without hearing a lot of 'no's' and I've been subject to that as much as anybody else. I think the most important thing is to just have a good head on your shoulders, know that it's what you want to do and just be passionate about it. When one door closes, another one opens and I've always believed that because when I first started acting and singing at 12 years old, people were saying, "You can't make it. You're twelve!" Then I was signed to my label when I was twelve. It's the same with acting, every ten auditions you go for; you might get a call back for one so it's a lot of hard work and persistence. Just find what sets yourself apart; just be creative, because that's going to get you further in the long run.
How do you come up with music for the songs that you're creating?
Like the melodies? That's the fun part for me and it's funny because when I'm writing with people it's really just me and one other person in the studio so it's kind of like we just get a dance party to ourselves! I like to start by just jamming and finding new melodies and music and just kind of experimenting and then usually the lyrics come when I'm doing that.
Which musical artist would you like to do a duet with?
Do they have to be dead or alive?
Either.
I would do a feat on the Beatle's new single and I would do a duet with Adele.
That would be amazing. What was the last prank that you pulled?
Oh, gosh! I think I prank called someone…or did someone prank call me? That's another story. What's the last prank I pulled? I don't have a lot of time for pranks right now. No, I'm serious. If I pull a prank on someone, it starts a war and then it doesn't stop and I can't handle that.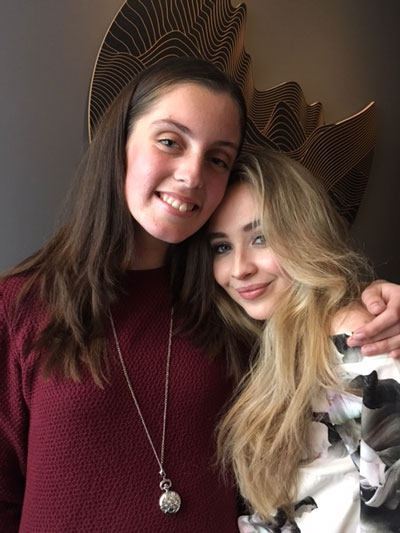 Courtney and Sabrina