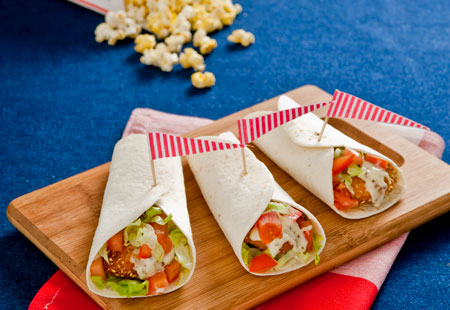 Makes 8 | Eat sometimes


What you need:
2 eggs

2/3 cup cornflake crumbs

2 tablespoons sesame seeds

1/3 cup plain flour

8 chicken tenderloins, trimmed (500g)

8 mini flour tortillas, warmed

Shredded iceberg lettuce and chopped tomato, to serve
Honey Mustard Dressing
1/2 cup whole egg light mayonnaise

1 tablespoon honey

2 teaspoons wholegrain mustard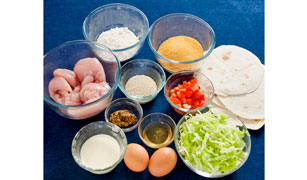 What to do:
Ask an adult to help you preheat oven to (200 degrees celcius). Place a well greased oven rack over an oven tray.

Light beat eggs together in a bowl. Combine cornflake crumbs and sesame seeds into a shallow dish. Spread flour onto a plate. One at time, dust the chicken in flour. Dip the chicken in egg first, and then crumb mixture to coat the chicken. Arrange the chicken on prepared oven rack.

Ask an adult to help you put tray into the oven. Cook for 10 minutes. Ask an adult to help you turn the chicken. Cook for a further 10 minutes, or until chicken is cooked through and the crumb is crisp.

For honey mustard mayonnaise, combine all ingredients in a bowl. Mix well.

To assemble, place one chicken tenderloin into each tortilla. Spoon over sauce. Top with lettuce and tomato. Roll up to enclose. Secure with a toothpick.
Tip:
for a change, substitute cornflake crumbs with fresh or dried breadcrumbs.