Hi Total Girls,
I'm Teigan, one of the presenters on Saturday Disney and now the newest member to the Totally Awesome TG website! I'm soooo excited to start blogging for you and thought I'd share a little bit about myself so we can be fast friends… So some of my fave shows are Good Luck Charlie, Shake It Up and Dog With a Blog! My fave musos are Taylor Swift, Katy Perry, One Direction (I even have their calendar on my desk at work!), 5SOS and The Vamps. Speaking of The Vamps, I was pretty over the moon when I was able to hang backstage with them before their concert and that's what I'm gonna talk about this month. Enjoy and don't forget to leave me a comment below… I'd love to hear from you!

THE VAMPS
I was lucky enough to hang out with Bradley, Tristan, James and Connor from The Vamps when they came to Australia for the first time. The band was really PUMPED to perform for all their Aussie Fans. Tristan tried to camouflage himself with the cushions on the couch, but don't worry I found him in there! I also thought it'd be a great idea to do the interview on a Giant Flamingo, but I didn't factor in how long it would take for me to blow it up! An hour later, my flamingo was sorta big enough.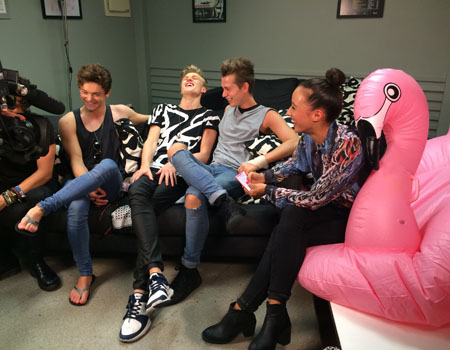 I also spent the morning prepping for the interview by making the guys a traditional dish from the UK - Toad in a Hole! Yep, it doesn't sound that appetising but to my surprise, it actually turned out to be pretty tasty!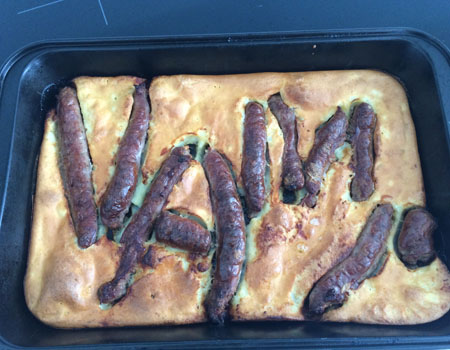 What do you think? I even tried to write VAMPS using the sausages but as you can see, I ran out of space. VAMP was close enough!

The band loved it! Bradley and James even ate it – they said it didn't taste bad at all! You can call me Chef Teigan from now on.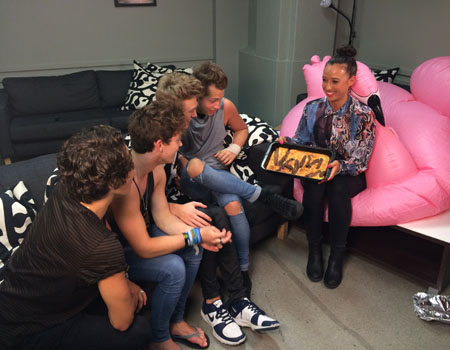 The Vamps Aussie fans (you guys!) arrived hours before the concert started, so I went out to the streets and found some very enthusiastic fans to record some questions to show the guys! "Questions from Fans" is a way for you to connect with musicians, artists, actors and people you look up to. So cool!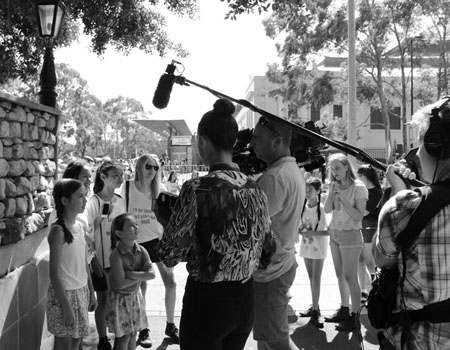 So with my pink flamingo friend by my side, we started our chat… We spoke about what's ahead for them in 2015, what they are most proud of and loads more. Check out Saturday Disney this weekend to find out everything the guys had to say!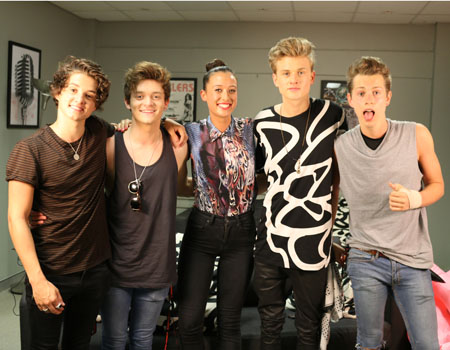 Check out the interview which airs this Saturday on Saturday Disney! Hear it all on March 7th 2015, Channel 7Two, from 7-9am.