Hey buddies!
I hope you're all well! It's been a little while since I've updated you on my shenanigans, so allow me to fill you in on aaaallll the things.
I'm sure lots of you are fans of R5 right?

Well guess what…?
I got to go hang out with them while they were here in Sydney on tour! HOW COOL IS THAT?!
And the best part was that they were all SOOOOO nice. Like, so lovely!
I got to chat to them about what they're getting up to while they're in Australia and what their plans are for this year (spoiler alert: they all want to get a house and move in together, cute!) and we also made a super funny video where they had to give me five things that started with 'R' for a bunch of different subjects – it was pretty hilarious (Ross couldn't think of many, LOL!).
I brought up the fact that my last name is ALSO Lynch, so basically, I should be the 6th member. They totally agreed (but I don't know how useful I'd be… I can maybe play the triangle? Haha!)
I also told Rocky how my Golden Retriever is also called Rocky Lynch – so he should feel proud to share a name with such a magnificent creature. He was pretty stoked!
Rocky Lynch & Rocky Lynch – who wore it better?
Check out this pic I got with them, too. I could totally be a member of the band, right? Just the much shorter member I guess (they're all really tall!).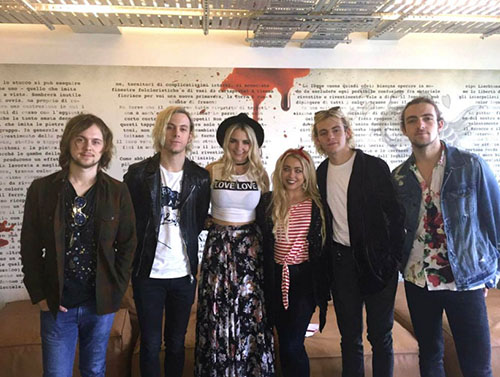 It was an awesome day, and I'm so excited for you guys to read all the goss they told me it in the April issue of TG!
Also, don't forget to grab the March issue too, because I don't want to give too much away, but I got to do a REALLY fun shoot with one lucky TG reader; we had sooo much fun!
What have you guys been up to? Let me know in the comments!
Laters friends,

Jess x