Hey TGs!
I don't want to make you all jelly, but some of the TG crew got a very special surprise today. Claire, Abbey and myself went to a super secret private screening of
Beauty and the Beast
featuring our fave, Emma Watson.
So, what did we think? It was ~awesome~ woo! We had so much fun watching it. We totally had to refrain from singing along in the movie theatre, the music is catchy and absolutely beautiful. Check out Claire and Abbey hanging out with the magical rose below!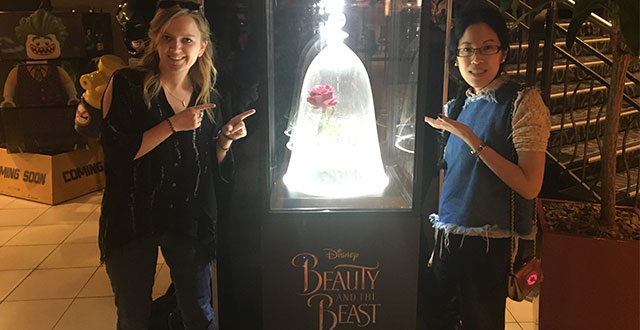 We had such a great time, so much so that we're going to share with you three reasons we each loved the movie (no spoilers, I promise).
Aaron
1)
The special effects, OMTG the Beast looks amaze

2)
Gaston is hilar and so full of himself, he provides so many LOLs

3)
Um, Emma Watson for sure, she is the best!
Claire
1)
Hearing Emma sing is ah-mazing, and I love how much she loves to read, just like I do!
2)
EVERY musical number is pretty great, but espesh 'Be Our Guest' and 'Gaston' (ROFL at that one).
3)
It's really exciting – parts of it will get your heart pumping, other parts will have you sighing for sure! Also, can I just say – I heart Mrs Potts! She's the best!
Abbey
1)
The detail in all the costumes, everything looked so magical

2)
Belle, she's my fave Disney princess of all time and Emma Watson did such an amazing job portraying her

3)
Lumière was hilarious, him singing Be Our Guest was so fun!
There you have it TGs, it's got big love from the TG crew. I'm going to let you in on a little secret, too – if you want to read more about
Beauty and the Beast
, and of course, our main maiden,
Emma Watson
, then grab a copy of our
April
issue on sale Monday March 13!
Bye,
Aaron :)